(Richland County)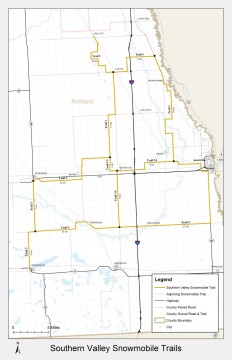 Snow Conditions:
Updated:  February 2, 2023
Amount of Snow:  31 inches
Recent Snowfall:  0 inches
Snow Depth: 12-20 inches
Current Weather for Wahpeton
Trail Condition:  All trails are open, groomed as listed below. The groomers are out today, conditions are good to excellent. Watch for large drifts, snow piles at approaches and road crossings. Check the groomer progress in the link below.

The tracking app is up and running! Still some updates to come!
Trails: 
Trail 1: Grooming today, 2/2/2023
Trail 1a: Grooming today, 2/2/2023
Trail 2: Groomed 2/1/2023
Trail 2a: Groomed 2/1/2023
Trail 3: Groomed 1/20/2023
Trail 3a: Groomed 2/1/2023
Communities: (Click Here for Accommodations)
Walcott, Colfax, Abercrombie, Mooreton, Barney, Wyndmere, Mantador, Great Bend, and Wahpeton
Total Trail Miles:

136 Miles
Connecting Trails:

East Central Valley Trail and Sargent County Trail
Descriptions:

The Southern Valley system has miles of groomed snowmobile trail which links nearly every city in Richland County.
Contacts:

Dave Ward
701-640-2000
Clubs:

Southern Valley Trail Riders
17290 78th St. SE
Wahpeton, ND 58075