(Benson, McHenry, Pierce, Ramsey and Towner Counties)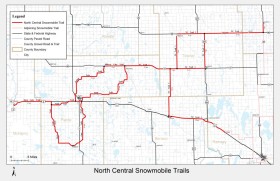 Snow Conditions:
Updated: March 30, 2022
Amount of Snow:  23-35 inches
Recent Snowfall:  0 inches
Snow Depth:  0 inches
Current Weather for Rugby
Trail Condition:  Closed for the season.
The tracking app is up and running! Still some updates to come!
Trails:
Rush Lake Trail:
Red Lake Trail:
Gun Lake Trail:
Sand Slough Trail:
Sand Lake Trail:
Jordan Lake Trail:
Midway Lake Trail:
Communities: (Click Here for Accommodations)
Wolford, Towner, Leeds, Rugby and Balta
Total Trail Miles:
100 Miles
Connecting Trails:
Lake Region Trail and Sno-Trails Trail
Descriptions:

The riding is 80 miles cross country with the other ditch riding.  The trail gives the rider a great cross section of terrain that North Dakota has to offer.
Contacts:
Jared Gefroh – Leeds Loop
701-305-0484
Rick Bruggemann – Rugby Loop
701-776-2134
Clubs:
Northern Exposure Snowmobile Club
9747 54th Ave NE
Perth, ND 58363
Northern Lights Snowmobile Club
PO Box 191
Rugby, ND 58368