(Nelson and Ramsey Counties)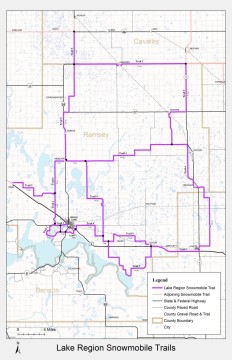 Snow Conditions:
Updated:  February 2, 2023
Amount of Snow:  30 inches
Recent Snowfall: 0 inches
Snow Depth:  10-14  inches
Current Weather for Devil's Lake
Trail Condition: All trails are open, groomed as listed below.  Conditions are good. Watch for large drifts, snow piles at approaches and road crossings. Groomers will go out before the weekend. Check their progress in the link below.

The tracking app is up and running! Still some updates to come!
Trail 1: Groomed 1/18/2022
Trail 2: Groomed 1/18/2023
Trail 3: Groomed to Calio 1/27/2023
Trail 4: Groomed 1/12/2023.
Trail 5: Groomed 1/19/2023, except south loop
Trail 6: Groomed 1/19/2023
Communities: (Click Here for Accommodations)
Penn, Webster, Hampden, Edmore, Doyon, Garske, Lawton, Devils Lake, Lakota, and Brocket
Total Trail Miles:
228 Miles
Connecting Trails:
North Central Trail and Northeast Trail
Descriptions:
The trail system is centered on the city of Devils Lake of Ramsey County in the northeast part of the state.  A day of riding may include tight twisting trails, wide open lake runs and long straight sections of country road ditches.  Heated and lighted warming houses are located in strategic points on the trail system.
Contacts:
Torey Haughland
701-351-2965
Clubs:
Lake Region Snowmobile Club
PO Box 981
Devils Lake, ND 58318
Tri-County Snow Dusters
10517 55th St NE
Brocket, ND 58321
snowdusters@polarcomm.com