(Emmons and Burleigh Counties)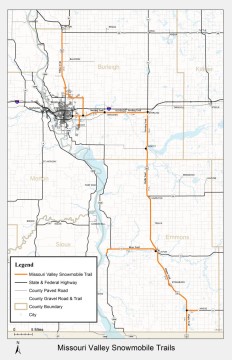 Snow Conditions:
Updated:  April 1, 2019
Amount of Snow:  0 inches
Recent Snowfall:  0 inches
Snow Depth:  0 inches
Current Weather for Bismarck

Trail Condition:   The trail system is closed for the season.
Trails:

Wilton Trail:  Closed
Sterling Trail: Closed
Lincoln Trail: Closed
Moffit Trail:  Closed
River Trail:  Closed
Hague Trail:  Closed
Trail Conditions Phone Hotline:

701-328-5377
Select Option 1 for the Latest Snowmobile Trail Conditions
Communities: (Click Here for Accommodations)
Bismarck, Baldwin, Wilton, Wing, Menoken, McKenzie, Sterling, Moffit, Hazelton, Linton, Strasburg, Hague
Total Trail Miles:

135.8 Miles
Connecting Trails:

None
Descriptions:

The trailhead is located 1.5 miles South of I-94's Exit 61 on Bismarck Expressway.  This trail runs east 22 miles along Highway 10 to Sterling, where food and gas are available.  The trail then turns south to Moffit which is located 10 miles south of Sterling along Highway 83.  South of Moffit are the towns of Hazelton (15 miles) and Linton (20 miles) which have gas, food, and lodging available.  The trailhead is 60 miles north of Beaver Bay.  Riding west from Moffit will take you back to the trailhead.  The trail also travels north of Bismarck and I-94 along Hwy 83 to Wilton and east to Wing.  South of Wing the trail connects to Sterling.
Contacts:

Don Schmidt – Bismarck Loop
701-214-9773
Dennis Hulm – Linton Loop
701-336-7508
Clubs:

Beaver Valley Sno-Goer's
PO Box 394
Linton, ND 58552
Rough Rider Snowmobile Association, Inc.

PO Box 4162
Bismarck, ND 58502
Membership Brochure