(Grand Forks and Walsh Counties)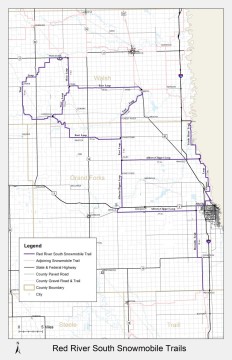 Snow Conditions:
Updated:  March 30, 2022
Amount of Snow:  17-28 inches
Recent Snowfall:  0 inches
Snow Depth: 0 inches
Current Weather for Grand Forks
Trail Condition:  Closed for the season.

The tracking app is up and running! Still some updates to come!
Trails:
West Loop:
East Loop:
Alberta Clipper Loop:
Turtle River Trail:
Communities: (Click Here for Accommodations)
Fordville, Inkster, Lankin, Park River, Pisek, Honeyford, Forest River, Grand Forks, Emerado, Manvel, Arvilla, Gilby and Johnstown.
Total Trail Miles:
195 Miles
Connecting Trails:
Red River North Trail
Descriptions:
The Red River South Trail Association grooms miles of marked snowmobile trails in the northeastern part of North Dakota.
Contacts:
Ryan Whaley
701-331-9189
Clubs:
Red River Snowmobile Club
PO Box 501
East Grand Forks, MN 56721

Ridge Runners
PO Box 132
Fordville, ND 58231
Turtle River Roughriders
PO Box 131
Manvel, ND 58256