(Grand Forks and Walsh Counties)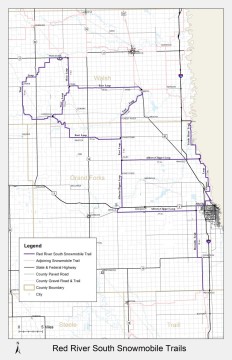 Snow Conditions:
Updated:  January 26, 2023
Amount of Snow:  23-30 inches
Recent Snowfall:  2-3 inches
Snow Depth: 8-10 inches
Current Weather for Grand Forks
Trail Condition: All trails are open and groomed as listed below. Conditions are good.  Watch for large drifts, snow piles at approaches and road crossings. Grooming planned for the weekend, check their progress in the link below.
The tracking app is up and running! Still some updates to come!
Trails:
West Loop: Groomed 1/17/2023
East Loop: Groomed 1/17/2023
Alberta Clipper: 2/1/2023
Turtle River Trail: Groomed 1/27/2023
Communities: (Click Here for Accommodations)
Fordville, Inkster, Lankin, Park River, Pisek, Honeyford, Forest River, Grand Forks, Emerado, Manvel, Arvilla, Gilby and Johnstown.
Total Trail Miles:
195 Miles
Connecting Trails:
Red River North Trail
Descriptions:
The Red River South Trail Association grooms miles of marked snowmobile trails in the northeastern part of North Dakota.
Contacts:
Ryan Whaley
701-331-9189
Clubs:
Red River Snowmobile Club
PO Box 501
East Grand Forks, MN 56721

Ridge Runners
PO Box 132
Fordville, ND 58231
Turtle River Roughriders
PO Box 131
Manvel, ND 58256