(Richland County)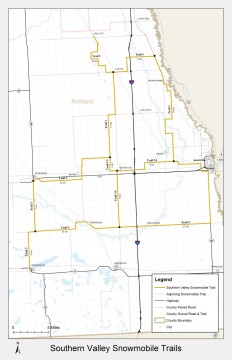 Snow Conditions:
Updated:  January 23, 2020
Amount of Snow:  30-40 inches
Recent Snowfall:  12 inches
Snow Depth: 8-14 inches
Current Weather for Wahpeton
Trail Condition:    All trails in the system are open. Trails are in fair to good condition. Groomers will go out after the upcoming storm.
Trails: 
Trail 1: Open – Some groomed this week. Will be groomed by the weekend. Colfax to Walcott will not be groomed as the drifts are too high in the trees.
Trail 1a: Open-groomed 1/22/2020
Trail 2: Open-groomed 1/22/2020
Trail 2a: Open-groomed 1/22/2020
Trail 3: Open-groomed 1/22/2020
Trail 3a: Open-groomed 1/222/2020
Trail Conditions Phone Hotline:
701-328-5377
Select Option 1 for the Latest Snowmobile Trail Conditions
Communities: (Click Here for Accommodations)
Walcott, Colfax, Abercrombie, Mooreton, Barney, Wyndmere, Mantador, Great Bend, and Wahpeton
Total Trail Miles:

136 Miles
Connecting Trails:

East Central Valley Trail and Sargent County Trail
Descriptions:

The Southern Valley system has miles of groomed snowmobile trail which links nearly every city in Richland County.
Contacts:

Dave Ward
701-640-2000
Clubs:

Southern Valley Trail Riders
17290 78th St. SE
Wahpeton, ND 58075