(Pembina and Walsh Counties)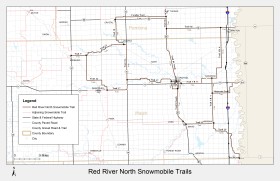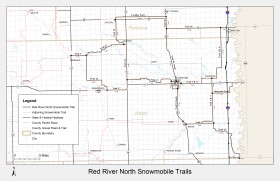 Snow Conditions:
Updated:  December 14, 2018
Amount of Snow:  4 inches
Recent Snowfall: 0 inches
Snow Depth:  1 inches
Trail Condition:  Trails are currently closed, waiting for snow!
Trails:
Trail CR 4:  Closed
Trail 9:  Closed
Trail CR 11:  Closed
Trail 12:  Closed
Trail 15:  Open
Trail 17:  Closed
Trail 18:   Closed
Trail 29:  Closed
Trail 66:  Closed
Trail 81 North:  Closed
Trail 81 South:  Closed
Cavalier Trail:  Closed
Minnesota Trail:  Closed
Trail Conditions Phone Hotline:

701-328-5377
Select Option 1 for the Latest Snowmobile Trail Conditions
Communities: (Click Here for Accommodations)
Grafton, Park River, Minto, Drayton, Hoople, Oakwood, Crystal, and Warsaw
Total Trail Miles:

144.7 Miles
Connecting Trails:

Northeast Trail and Red River South Trail
Descriptions:

The western half of the association is mainly ditch and shelter belt riding and the eastern half follows the Red River and the woods from Park River to Hoople. This trail association provides many places to stay for travelers on a snowmobile trip.  The Red River North Trail system has a lot to offer snowmobilers who are looking for fun and relaxing snowmobile trips with the variety of riding and many miles of trail.
Contacts:

Nick Osowski
701-360-6425
Clubs:

Minto Area Joy Riders
PO Box 111
Minto, ND 58261
Valley Snow Drifters
125 Manvel Circle
Grafton, ND 58237